What happened at our Plymouth "Friendly" last week?
Why were we here?
As most of you who read the Daily Alternative blog, or Alternative Weekly newsletter will be aware, last week we launched the first part of a three-part collaboratory process for South Devon, at the Devonport Guildhall in Plymouth (credits here).
We called it a Friendly. Why? Because, like a friendly football match or sporting event, we wanted this to be a meeting of micro-communities who would enjoyably play some games together (involving food, arts, facilitation and stories). At a "friendly", you join in for fun, as well as to learn about others' (and your own) skills and capacities. A friendly certainly isn't about "winning" any kind of "victory" – or, in meetings-language, about coming to any kind of a "result".
The event was the result of half a year of planning, starting with an invitation to have a collaboratory in the region by former Mayor of (now councillor in) of Buckfastleigh, Pam Barrett. We'd been discussing the decades of great work that has become so visible in Totnes and nearby towns, done by the Transition Network, Schumacher College and Dartington Arts – all of which aims to connect up "people and planet".
But as we asked, and listened, we couldn't ignore how other parts of the region – the working-class parts like Buckfastleigh – had not benefited so much from the same participatory cultures. Nor how all of this good work was staying below the radar of official, standard power structures. For example, the usual political parties (local branches of the national organisations) had barely registered the desire of people to be more autonomous in their own communities.
That is, until Brexit happened. Although there are endless explanations for why 52% of the voting population disagreed with all the major political parties in the EU referendum, it's clear that politics left the country divided, often acutely at community level. And, as we've explored repeatedly in the Daily Alternative, this division can't be healed by party politics as we know it – because they play a large part in the cause, going back decades.
Part of the problem is the first-past-the-post-system of voting in the UK, which means it is very hard for political consensus across the parties to emerge. But there are broader, deeper problems around the culture and structure of politics that also contribute to the alienation of citizens.
When party politics revolves around economics and money, productivity and competitiveness, and pays too little attention to peoples' emotional needs (including meaning and purpose, belonging, autonomy), our faith in the relevance of the public realm is weakened, has shallow roots. And so we are left vulnerable to emotional hijacking by those with the media, marketing and network power to manipulate us. Take Back Control! Make America Great Again!
The alternative to that, at least to begin with, is a politics that allows people to reclaim their sense of agency, create their own version of security, and develops communities that help citizens get both their material and their emotional needs met.
In an effort to respond, we began building on an original idea from Alternativet in Denmark, to design a process we have ended up calling a "Community Collaboratory", which takes place over three parts. While most of the detail of that process will always be co-created by the local groups, we found that everyone wanted to have some sense of what it was in advance, so here is what we described:
1. The Friendly: an open gathering of as many micro-communities within a region as we can curate. This gathering – which takes place on a weekday evening for 2-3 hours – focuses on building trust through friendship. To start with, those gathered eat and drink together. And with the help of local artists providing music, theatre, spoken-word, movement and facilitated discussion, we begin to sense and establish some common purpose among those present.
2. The Inquiry: this is largely the same people who appeared at the Friendly, plus any additions that might complete the mix. They are invited into a longer and more facilitated process that inquires into who this community is, what's good and what's lacking about it, and how those gathered can imagine a future they can all look forward to. There's a variety of methods that can be used, including story-bridging, U-lab, constellation work, conflict transformation, change-gaming – all these to be customised and co-designed with the local action group. The Inquiry generally takes place on one or more weekend days, allowing at least 4 hours of work together each time.
3. The Action: building on the previous two stages, the group uses open-space technology to decide upon a number of concrete projects they are going to embark upon together. By this time, enough links with local business and funders have been made to allow each project to be considered for support.
The range of projects might stretch from choosing and developing a new community hub, to cross community food, energy, arts or media projects: from choosing locations for "tea with strangers", or designing a festival unique to this region—or many other actions and initiatives. Or maybe even supporting members to stand as councillors, identifying locally, for the town or city council. Any and all of the projects are intended to help build "citizens' networks" that defy the silos and divisions of the past.
While we hope the people we work with are representative of the diverse culture and demographics of the region, we also hope to cover the three bases we describe as I, We, World (see our explanation). So in the rooms at each stage, we aim to have:
some people whose lives are bound up with the care of individual flourishing
some who are thinking about our collective agency, as a community, town or locality
some who are thinking about our relationship with the world and our impact upon the planet.
Yes, a high bar!
It takes quite a while to get the feel of a place, and visitors like us are always in danger of thinking we know more than we do. So it was our core practice to find the resident connectors – the people who know everyone, even if they can't always bring them into your project. Pam quickly introduced us to Ed Whitelaw at The Real Ideas Organisation, who reflected The Alternative UK's own ethos of working with artists to rebuild community.
RIO has renovated a number of heritage buildings in the region, re-purposed them as community hubs and done invaluable work in connecting entrepreneurs with investors and funders. Their flagship project, the Devonport Guildhall – a former town hall in Plymouth that now housed a magnificent hall and a local bakery, amongst many other community interest companies - looked like an ideal venue.
Ed in turn alerted us to a number of events leading up to our event, each of which became new resources for the Friendly, opening up new networks. The We Can Do It event (which we wrote about here) connected us to architects and place builders, urban gardeners and social workers and – crucially – to the student population. A week later, the Social Making symposium brought us into contact with artivists (people doing socially engaged arts practice) that was making its mark in Devon but also around the world.
But Ed also introduced us to some of the people living around the Devonport Guildhall. They didn't come into the building regularly but had their own community locus in the surrounding estates. For example, we met residents of the Pembroke Street Estate, who had been working very successfully for 30 years in the renovation, development and upkeep of their own estate (we wrote about them here).
From the Pembroke St. residents we learned about the military families and the hospital workers community who we were introduced to and came to know a little bit. And from one of the military wives – Jenny South - we came almost full circle when we heard how the urban gardeners had helped her overcome her depression. After two years of feeling increasingly isolated in her house with her two children, while her husband was confined to barracks, someone planted a tiny guerilla garden opposite her house overnight. Tracking the gardeners down led her into her community for the first time.
We came across another key connector in the form of Anairda – a musician, an artivist and poetician from Ecuador – who now lives and works in many different Plymouth arts and social guises. As is often the case with global citizens who have chosen to make their home in the UK, she had her finger on the socio-political pulse and introduced us both to key civil society actors but also up and coming, local singers, poets and actors as well as talented facilitators. Through Anairda we came across the Latin American community, women connected with global indigenous tribes and spiritual medicine healers. She also ran her own project called Feminist Fusion, which brought together a very eclectic group of women interested in social transformation.
The day of our "Friendly" - what actually happened
As we busied ourselves connecting and exploring, BBC Devon came to hear of our Friendly and interviewed us on the breakfast show on the morning of the event (original show, Indra Adnan interview here). The presenter announced that not only did we have a new take on community politics, but also free food and drink for anyone who wanted to take part! Even so, we had no idea of what kind of turn out we would get. The Guildhall is a vast building… we felt we could easily be rattling around in that space.
Come 6.30pm we were ready with a table full of food from what we had heard was the iconic Indian restaurant, Veggie Perrins. The somewhat formal and civic hall had been 'dressed' by urban gardener Tess Wilmott, giving it a vibrant, earthy feel. The chairs, set out in a scattered, living-room style, were interspersed with different period-style coffee tables, holding baskets of mint and rosemary. Right on time people started to come through the doors and quickly filled the space, with youngsters having to sit on cushions on the floor. (Our final headcount, including a walk-up, was 80-100, at capacity for the venue).
As they were eating and chatting, a deep drum played by Lorna Coulson started a heart beat that filled the space. A series of voices filled the air with lines about the future of Plymouth, delivered by local actors. Written by writer and director Jon Nash, theatre practitioner at Plymouth's Barbican theatre, the script painted a picture of a huge range of perspectives on the city - utopian and dystopian, comic and grim:
- In the future…Plymouth will be…kinder and friendlier and people will stop you in the street and tell you how good you are looking today and laugh at your jokes, even the bad ones and everyone will be smiling.
- In the future…there won't be any cars in the city. At first people will all use trams and buses and…and hover boards…and then later on they'll get bored of those and start using horses again and the air will be cleaner but it will be much noisier and everything will smell of horses.
- In the future Plymouth will be about the same size but much emptier. Empty houses, empty pubs, empty office blocks, Empty parks, Empty car parks. You'll stop someone in the street and ask 'where did everyone go?' and they'll shrug.
When it finished, A/UK's co-initiators Indra Adnan and Pat Kane introduced themselves and The Alternative UK before asking people to stand up and move around the room, first identifying their differences and later finding new commonalities between them. (We adapted this exercise from the Danish TV2 channel's famous video, "All That We Are").
The questions triggering these movements ranged from simple demographics ("where are you from?") to more challenging questions such as "who feels secure?" "Who feels a sense of belonging to this region?" This section ended on a very personal, but also wildly futuristic question: "If you had the chance to live an extra hundred years with a similar state of health as you have today, would you?"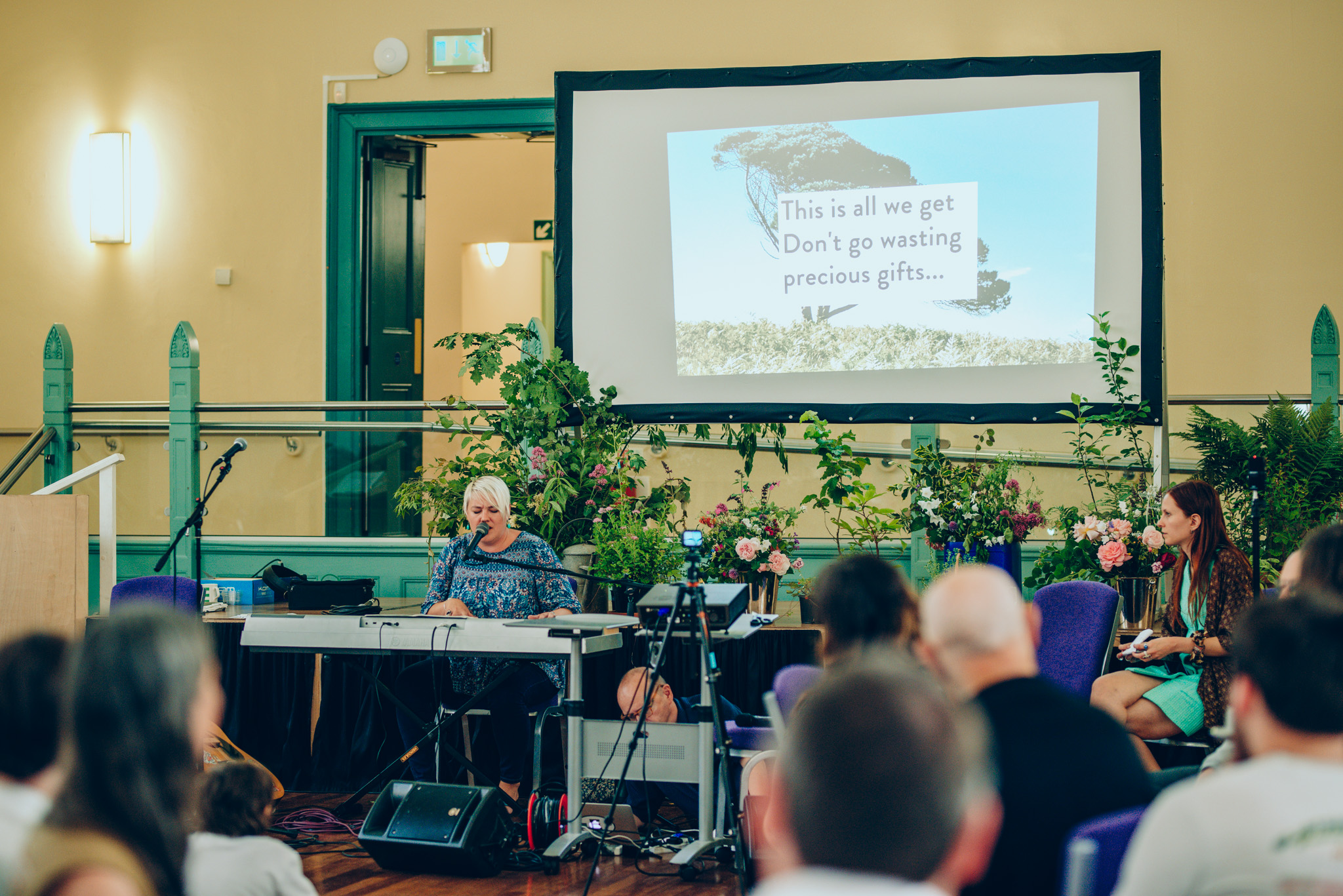 Powerful soul singer Roz Birch (herself an amazing connector in our scene) gave us a song "All I Get" from her new EP (ref) – the key line (which we put on our slides) being "This is all we get/Don't go wasting precious gifts". We then handed over to Jenny South. Jenny shared her experience as a navy wife who had been isolated in her Plymouth community.
Roz – who is also a talented teacher and facilitator – then did a whole room exercise that explored the personal as political. Offering a choice of 20 images that triggered thoughts about community (see slide show), she asked everyone to choose one they resonated with - and then discuss why they chose it with the nearest person to them. The exercise brought out many surprising and poignant thoughts, readily shared with the room.
After a short exposition of the "I, We, World" ethos from Indra and Pat, spoken word poet Antonia Raines stirred and tickled us with her poems 'My Life is Better than Yours' and 'The March' which took us into the shadow aspects of Facebook and social organisation – which we hope to post up here in the next few days.
Next, there was a series of short introductions to local imagineers – people with inspirational projects that are beginning to transform the South Devon / Plymouth community.
· Hannah Slogget and Wendy Hart from the Nudge Community described how they moved from running street parties to buying and renovating buildings to become community hubs. Wendy talked about the personal challenge of taking on such responsibility which stretched her beyond her natural limits.
· Tess Wilmott – permaculture teacher and designer and owner of Edible Landscapes amongst other projects – picked up the baton. She talked about the difficulties but opportunities that come from connecting deeply with the community.
· Toby G from Street Factory shared his long journey helping young people with hip hop music and dance – and then put us through our paces, getting us to perform a collective arm-ripple as an expression of our "oneness".
· Rob Hopkins of Transition Network showed us how a fairly short visit to Liege in Belgium gave rise, four years later, to a transformation of the town and its place in the global community (see this blog for more).
What followed next was a magical, ancestral, South-American ritual devised by Anairda (and titled "From the Living Web" - full text available here). She took us into a completely different space, for a deeper, more spiritual connection in the room. Two children (brought by Sally), who up to that moment had been cavorting merrily in the middle of the room, stood stock still, mesmerized by her story telling. Anairda then sang a beautiful yearning song - Matarile - about the possibilities for us all when we dream together.
We were coming to peak engagement when Pat Kane asked us now to consider the future. He talked broadly about the challenges but also the opportunities of automation, artificial intelligence, human bio- and cogno-enhancement, and Universal Basic Income (see the "Futures" category on this blog). Pat then asked Jay Tompt of the Totnes ReEconomy Project and initiator of an annual event called Devon Convergence, to lead us all in a future-facing exercise, exploring our own feelings about what's coming down the line over the next few decades (more about the exercise here, in a paper from Stuart Candy).

We set up two axes, stretching across the big elegant square room of the Guildhall, and asked people to distribute themselves across these lines, in two steps. The first step was to move towards the front or the back of the hall, depending on our greater or lesser confidence about the future. The second step asked people to keep their front-back position, but then move left or right – depending on whether they felt they did (or didn't) have any personal ability to influence the outcome of these futures.
The exercise, which put people into four quadrants (see an example in the slideshow above) threw up some anomalies. Positive and negative feelings about what's coming were fairly evenly distributed among the crowd. But a strong majority in the room felt clearly their own actions could make a difference in shaping the future. It was almost a contradiction. What it revealed was the fact that people felt capable but under-used, their talents and enthusiasm not properly sought-out. With little or no clear opportunity to participate in major decision making, half of the room had walked to the pessimistic end of the hall.
It was timely then, to hear from Peter Macfadyen from Frome and Pam Barrett from Buckfastleigh, both independent community politicians who had become Mayors of their own towns. They briefly shared their experience of feeling similar kinds of frustration in their own communities. In both cases, that prompted them to stand as councillors alongside other community members who were looking for more participation in local decision making, succeeding in taking control of their town councils.
By this point in the evening, there was a palpable bond growing between those present. Not so much a consensus forming, as a shared awareness of the diversity in the room. This was coupled with a growing common purpose: the need to know each other better and get more involved in decision making for the community.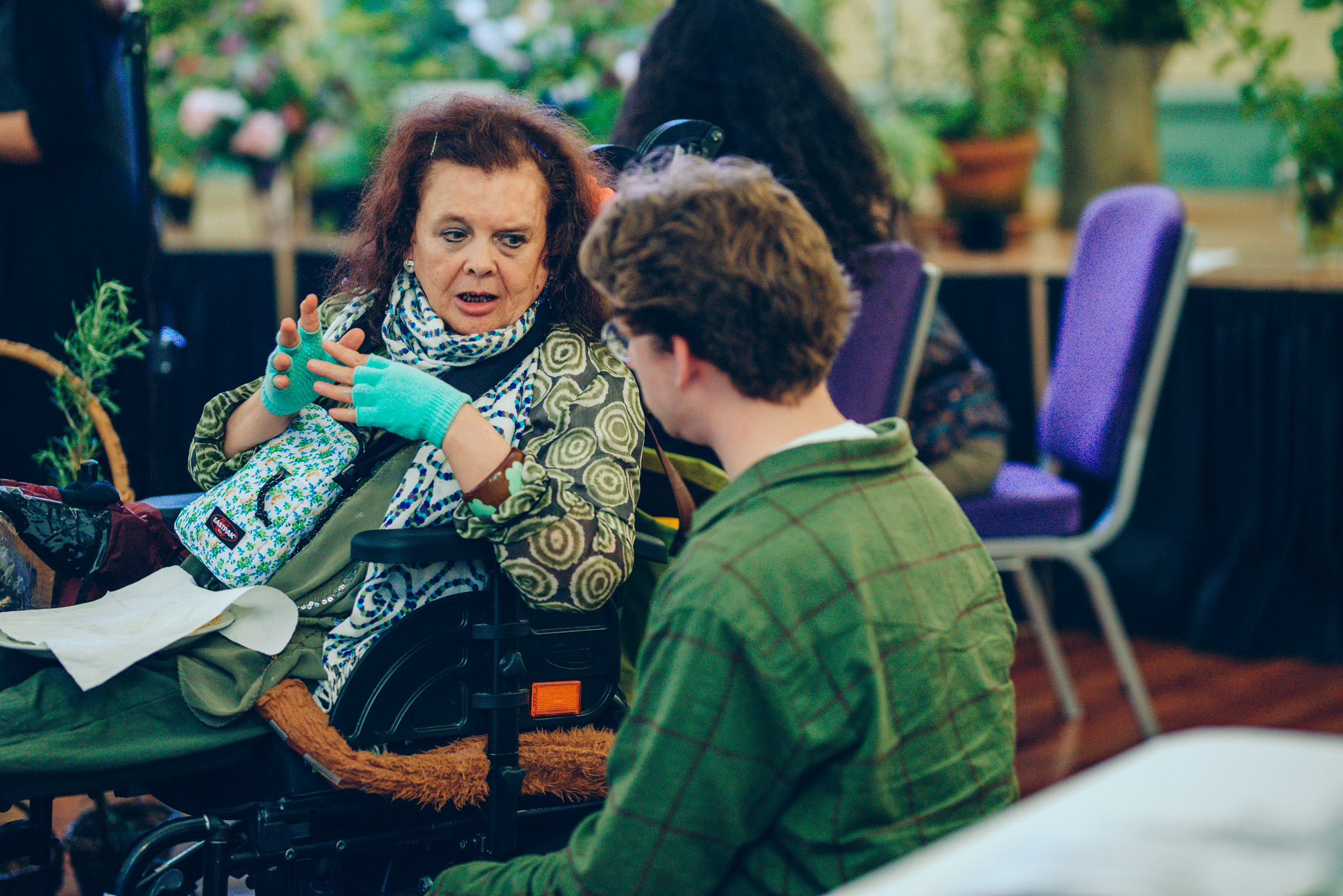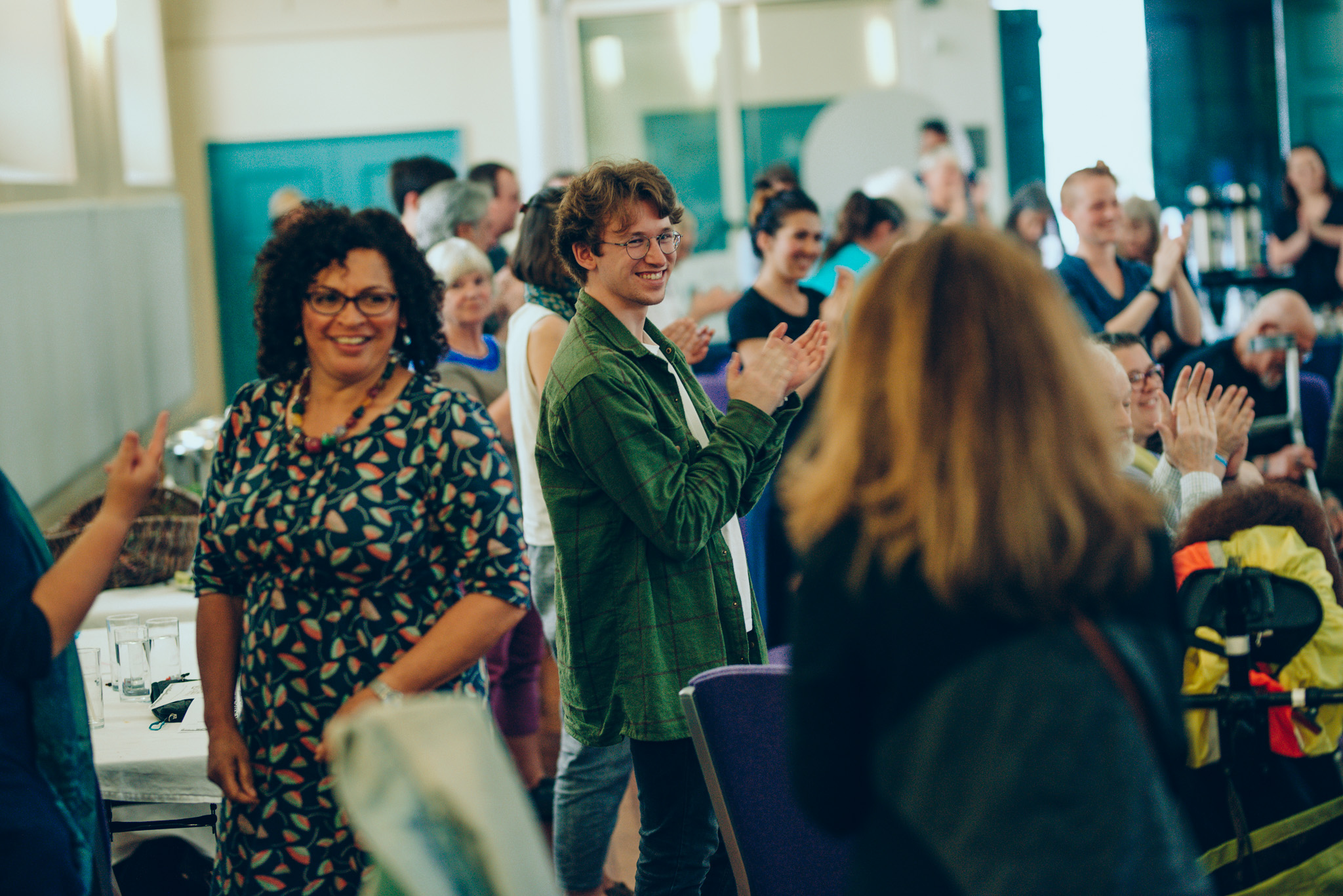 We closed with a brief introduction to the second and third part of the Community Collaboratory process and invited all those present to sign up and bring their friends.
The consensus since that evening was that it was a successful and important gathering. We managed to get people into this space who hadn't met each other before and were willing to get out of their micro-bubbles for the sake of a stronger community. If you live in South Devon and want to join us on the journey, apply here and we will hope to see you.
In the meantime, our special thanks for all those mentioned above (and more – see this blog for more credits), who helped us to curate and design the space. In the end, it's yours – we're only here to catalyse. So please, step inside!