Play a game of "Utopoly" (yes, Monopoly for Utopians)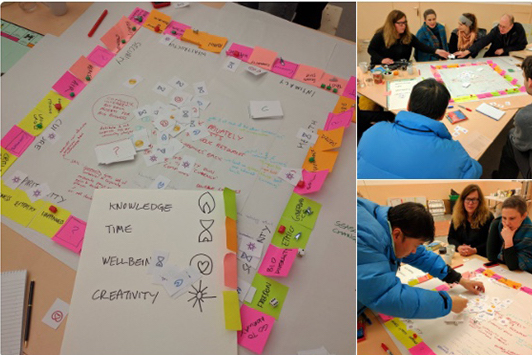 Nice project reported by Furtherfield on developing a new form of the "Monopoly" board game. The aim is to get people to try out - and enjoyably experience - what a new kinds of economic system would be. That is, one which doesn't end up with a mighty monopolist choking the life out of everyone else. And causing yet another epic friends-or-family fight... (They seem pretty happy in the pics above).
Francesca Baglietto: What is Utopoly? More specifically, how does it relate to and differ from Elizabeth Magie's original version of Monopoly?
Neil Farnan: Utopoly is both a tool for utopian practice and a fun game. It draws on Robert Jungk's Future Workshop methodology (PDF) to re-engage people's imagination and ideas for a better society and incorporates the results into a 'hack' of Monopoly.
Elizabeth Magie's original game (1904) was intended to show how landlords accumulate wealth and impoverish society. Players could choose either a winner takes all scenario or one where wealth was distributed evenly via a land tax. Magie also hoped that children's sense of fairness meant they would choose the latter and apply these ideas in adulthood. But the Monopoly we have today normalises and celebrates competitive land grabbing and rentier behaviour and Magie was airbrushed out of history and replaced with a more acceptable mythology of the American Dream. [More on how the original aim of Monopoly has been distorted]
Whilst Magie's game informed players about the current situation, Utopoly gives people the opportunity to imagine and incorporate values and attributes they would want in a more utopian world. Players are able to determine the properties, the chance and community cards and even rules of the game. The rules being determined by the players means the game is a work-in-progress, however some features that work well can get adopted and carried through to the next iteration.
...The irony of Monopoly is that the winner is ultimately left in control of a non-functioning economy. A more preferable state would be to have a healthy flow of values in balance where people are able to exchange their contributions in a mutually beneficial way. A feature of Utopoly is that players no longer seek to own all the property but work together for the common good. The currencies are used to bring privately held properties back into the commons. The economist Elinor Ostrom won the Nobel prize for debunking the myth of the "tragedy of the commons" (Ostrom, 2015) demonstrating the benefits and effective use of common resources. Utopoly also allows economies of gifting and sharing.